Are bed bugs invading your home or are you looking for ways to keep them out in the first place? Either way, a bed bug mattress encasement can come in handy.
Also known as bed bug mattress covers, they're wrapped around the entire length and breadth of mattresses to prevent bugs and allergens from making direct contact.
Bed Bug Mattress Encasement Buying Guide 
Bed bug mattress encasements may be a great solution to combat infestations. But how do you find the best model especially as a first-time buyer? Well, there are several considerations to make before you hit the order button on a particular one.
Shall we take a look at the important factors to increase the chances of ending up with the right one?
Quality of the Stitching
Quality stitching is probably the most important factor to consider when shopping for a bed bug mattress encasement. This is vital to their ability to stay in shape for many years and keeping out not only bed bugs but other pests as well.
Remember, these troublesome bugs can take advantage of the slightest scratches to enter and wreak havoc on your mattress.
As soon as you notice even the smallest scratch or hole, it is time to get a replacement mattress encasement unless you're not serious about keeping out bed bugs.
Tight Zippers
Tight zippers are as important as the quality of the stitching because bed bugs are always looking for the slightest holes to gain entry into your mattress. Thus, having an encasement with tight zippers is the best way to repel the bugs and other insects from making contact with your mattress.
However, avoid models with large zippers and teeth because the majority of bugs will have no problems passing through them
How Quiet is your Encasement?
This is an important question to ask when shopping. Even the best bed bug mattress encasement can be a nightmare to sleep on if it makes noise with every move you make in bed. 
Usually, the plastic-feel models make the most noise so it is important to stay away from them.
Reading online reviews from verified buyers can be one of the best ways to find out how quiet a particular mattress encasement might feel. Fortunately, many consumers are happy to reveal their first-hand experiences with different models on retail sites such as Amazon.
This should make it easier to find a mattress encasement that is quiet enough for blissful sleeping.
Bed Bug Repellence 
Spending your hard-earned cash on an encasement that fails to repel bed bugs can be a waste of money. After all, superior bed bug protection is the main reason why anyone goes through the trouble of buying an encasement in the first place.
This is why it is important to find out the level of bed bug protection a particular model offers in advance. Keep in mind that bed bugs are probably the hardest pests to get rid of. Thus, you need nothing less than world-class protection from your preferred encasement.
Allergen and Dust Protection
The mattress encasement you order should not only repel bed bugs but it should also offer protection from allergens and dust mites.
This is important because mattresses can be fertile breathing grounds for bacteria and allergens that can cause eczema, asthma, and other serious health conditions.
Waterproof
We recommend getting a waterproof bed bug mattress encasement especially if you're fond of eating in bed. This can prevent the spills from tea, coffee, and alcohol from messing up your mattress.
Keep in mind that left-over food and spills from drinks can be common sources of bacteria infestations in mattresses. If you love eating in bed, having a solid waterproof bed bug encasement wrapped around your mattress can serve you well.
Money-back Guarantee and Warranty
Money-back guarantees and warranties are important when making any sort of purchase today. And a bed bug mattress encasement is no exception.
Some brands offer 1-year warranties while others back each sale with 10-year warranties to show the level of confidence they have in their products.
Choosing models with extensive warranties can also be smart in case something goes wrong shortly.
The Best Bed Bug Mattress Encasements
The Hospitology Products Sleep Defense System is a no-brainer if you're looking for the ultimate protection for your mattress.
The cost of a brand new mattress can run into several hundred or even thousands of dollars. Leaving such an expensive investment at the mercy of bed bugs, dust mites, urine, and beverage spills makes little sense and this is why this powerful mattress encasement is so popular.
The exceptional softness of the polyester knit fabric feels cool on the skin. This can make it easy to sleep during hot temperature periods of the year.
Also, all component materials are geared towards repelling bed bugs. The fact that it protects your mattress from allergens and bacteria also means easy breathing all night long.
We love its generous dimensions because it covers almost every mattress on the market effortlessly. Even if your current model is 18 inches thick, the Sleep Defense system should have no issues encasing it completely.
Finally, it comes with a bug flap and zipper lock that ensures the security of your mattress immediately after encasement. Also, it is 100% waterproof meaning world-class protection from liquid spills and urine across every inch of your mattress.
If you're looking for the ultimate bed bug protection, it doesn't get better than this model. The SureGuard Mattress Encasement is one of the highest-reviewed bed bug covers online today. And this is no mere coincidence because it offers a host of innovative features that trump rivals on the market.
Firstly, it comprises high-grade 100 % cotton material that does not only feel soft to touch but keeps the body cool. This material offers extensive moisture-wicking which can come in handy for natural hot sleepers and residents of hot regions.
Many consumers report stunning bed-bug repelling performance from this cover. This is achieved by the durable zipper with Invisi-Zip and Sureseal technology. Both innovations complement each other to seal off the mattress from bed bugs, bacteria, and dust mites. 
Worried about losing the feel of your mattress? The super-thin texture of this bed bug encasement maintains the feel of your current mattress.
The SureGuard Encasement is GREENGUARD Gold Certified after independent tests for waterproof properties. It is also hypoallergenic meaning excellent protection from bacteria and allergens.
If you're looking for complete coverage for your mattress of up to 16 inches deep, this model can be a great fit.
The Utopia Bedding Zippered Mattress Encasement is a world-class model for those who live in bed-bug prone areas.
Apart from the bug resistance, it is also 100% waterproof. The use of PVC Waterproof TPU backing across each side of the mattress means zero risks of leakage.
This makes it a popular choice for not only adults but toddlers and children that face frequent bedwetting episodes.
The manufacturer realizes the fact that bed bugs can only be kept out successfully with top-notch construction. This is why it integrates the latest innovations in the industry such as double-hemmed stitching and velcro zip guard. 
Encasing this cover is easy thanks to the zipper that stretches to 3 sides of the mattress. The Utopia Bedding Mattress Encasement offers generous dimensions that cover mattresses of up to 15 inches deep. Additionally, the presence of a Velcro zip guard along the zipper keeps bugs out in the first place.
Besides, the zipper also protects your mattress from dust mites, bacteria, and allergens. As long as it remains in good condition, you can expect to sleep and wake up completely free from any sort of bugs or bacterial infestation.
Finally, each purchase comes with a complete 30-day money-back guarantee. This means you can buy with confidence without risking your hard-earned cash.
The SafeRest Premium Zippered Mattress Encasement offers a lot of positives for the sleeper. But we love the fact it offers an ultra-quiet surface which you can barely feel. This is in sharp contrast to many mediocre models on the market today that make noises with every movement you make in bed.
This encasement features 100% premium cotton material known for superior breathability. This ensures cool and noise-free sleeping during the summer when temperatures can surge rapidly.
Also, this cover sports an innovative Micro-Zipper Technology that protects the mattress from bed bugs at every point.
No wonder it is certified bedbug-proof after a series of independent lab testing by reputable organizations.
The SafeRest Mattress Encasement is an asthma patient's best buddy. If you suffer from allergies, you'll love the healthy breathing it offers due to its ability to block allergens and dust mites.
It is machine washable with everyday household detergents so caring for it shouldn't be a problem. Also, we love the fact that each purchase is backed by the manufacturer's 10-year full-replacement warranty.
Finally, this bed bug mattress encasement contains absolutely no volatile organic compounds, flame retardants, PVCs, or Phthalates.
The only downside is that unlike many of its rivals, the SafeRest is not waterproof.
This model delivers everything you'd want in a bed bug mattress encasement and more. Thus, it is no surprise that it continues to attract tons of orders from consumers desiring the best protection.
Many customers report being pleasantly surprised by the quality of the protection this thin and noiseless bed bug encasement offers. It can act as a buffer between your expensive mattress and liquid spills from beverages such as coffee, tea, and soda.
The good news is that it covers all six sides of your mattress. This leaves nothing to chance in your quest to keep your mattress in mint condition throughout its lifespan.
If you've slept on a plastic-feel mattress cover surface in the past, you'll appreciate the comfort the LINENSPA Encasement offers. It is cozy and cool with absolutely no crinkling sounds or cheap plastic feel.
Besides, the absence of vinyl, volatile organic compounds, and other potentially harmful chemicals makes it safe for kids. It can protect them from nighttime accidents which may make their mattresses smelly and dirty.
Have you suffered a bug infestation? This mattress cover can offer an affordable way out without necessarily shelling out on a new mattress.
Also, it can be a great fit for mattresses of up to 12 inches thick. And the incredible 10-year warranty the manufacturer offers is a huge plus.
After spending a fortune on a brand new mattress, the last thing you need is a beverage spill or overnight accident. This is why the Red Nomad Bamboo Hypoallergenic Mattress continues to attract tons of raving reviews.
This protector fits mattresses of up to 18 inches thick ensuring 360-degree protection for your substantial investment.
It is OEKO-TEX certified to contain zero traces of some of the most popular potentially dangerous chemicals in the industry. Thus, you can go to bed rest assured of no contact with phthalates, vinyl, and PVC.
The Red Nomad Protector features Jacquard Bamboo Weave with powerful elastic material for a snug fit. This material takes cool sleeping to whole new levels by preventing hot flashes and sweating in the middle of the night.
This can make it a worthy purchase for hot sleepers and those stuck with memory foam mattresses that retain their body heat. Besides, it also helps to get rid of the infamous "new mattress smell" that comes with memory foam options on the market.
Red Nomad offers a no-questions-asked money-back guarantee for all customers. This can come in handy if you decide to return it down the line.
Few mattress covers offer anything close to what the PlushDeluxe Mattress Encasement brings to the bedroom. This is why it is quickly gaining a reputation as the rising star in the bed bug encasement industry.
It is available in sizes ranging from Twin to Twin XL as well as Full, Queen, King, and California King. Thus, it can be the perfect fit whatever the size of the mattress you own.
Are you suffering from frequent acne breakouts and eczema? This encasement can be the perfect remedy for your troubles.
All 6 sides of the mattress repel bed bugs thanks to the hidden zipper with secure Velcro Flap design.
It is the perfect model for those with ultra-busy lives due to its low-maintenance requirements.  Also, the manufacturer's use of quality raw materials means it is durable and stays like new after hundreds of washing cycles.
Many current users say they remain in awe of its ability to repel liquids despite the built-in breathable membrane that allows air circulation.
The PlushDeluxe Mattress Encasement is perfect for kids and adults alike thanks to the absence of potentially toxic industrial chemicals.
The 100% satisfaction guarantee and 10-year warranty are extra features that make this model an attractive purchase.
What is a Bed Bug?
Bed bugs are parasitic insects that feed on human blood especially in the middle of the night. Their bites can result in big red itchy bumps, rashes, irritations, and soreness.
These bugs usually appear in brown or red-like colors and love to hide under mattresses as well as various cracks and crevices around the home where they can get the freedom to lay eggs and continue breeding. A few bed bugs can lay thousands of eggs to multiply their numbers in just a couple of weeks.
Besides, bed bugs can quickly spread to other areas of the home through clothes, bags, and other personal items.
Their ability to hide in the most unsuspecting places is one of the reasons why they're so hard to get rid of completely. Once bed bugs invade your home, office, or store, you may have to hire the services of professional exterminators which can run into several hundred or even thousands of dollars.
Even when you go down that route it may take more than one extermination session to eradicate these bugs from the infested areas.
Reasons Why You Should Get a Bed Bug Mattress Cover 
Prevention is way better than cure especially when it comes to bed bugs. Sure, professional exterminators may help with most bed bug problems. But protecting your mattress from these bugs in the first place is the smartest thing to do.
This is why bed bug mattress covers continue to attract tons of consumers from different walks of life. Here are a couple of reasons why you should invest in one of those covers.
Bed Bug and Allergen Protection
The right mattress covers can serve as exceptional lines of defense against not only bed bugs but other potentially harmful organisms as well. A good encasement is one that covers every inch of all 6 sides of the mattress to ensure dust mites, allergens, and other pests are kept out completely.
Even if other areas of your home are infested, you can expect your mattress to stay clean of these bugs as long as you fit the right encasement around it.
Additionally, the majority of bed bug encasements offer exceptional hypoallergenic properties making them safe havens for those suffering from asthma and allergies.
Waterproof
The best bed bug mattress covers offer waterproof protection. This means your main mattress can stay clear of spills from liquids and beverages such as tea. If you have kids under 10, these covers can also protect the mattress from potential incontinence accidents that can happen overnight.
Bed Bug Prevention
Do you want to prevent the possibility of bed bug infestations in the future? The combination of a good bed bug cover with a brand new mattress and box springs can be a good start.
Even if these bugs arrive in your home accidentally, the powerful combo can prevent them from thriving and multiplying.
How to Detect Bed Bugs
Bedbugs are some of the sneakiest insects that could invade your home. Often, they hide in cracks and crevices to remain invisible. You might wake up rashes, soreness, and other signs of their bites on your body but finding them can require some creativity.
Here are some of the smartest ways to discover bedbugs in the bedroom or other parts of your home.
Visual Inspection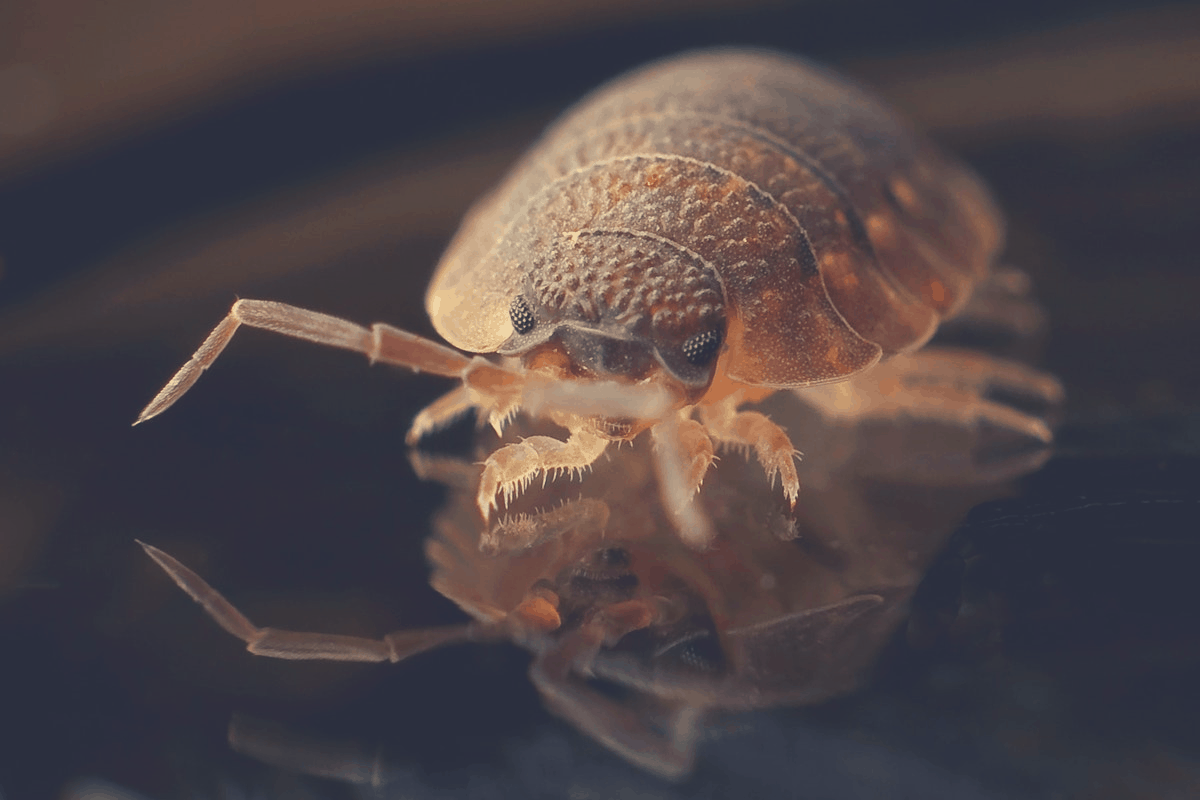 Bed bugs may be small but they're still quite visible to the naked eyes. This makes visual inspections one of the easiest ways to find signs of their presence in your home. The best tips to discover these bugs in your bedroom include:
Look at every side of your mattress especially in the corners and crevices for live bugs 
Watch out for signs of red stains on your sheets, covers, and blankets
Look for signs of bed bug excrement which typically appear in tiny dark spots
Search for live bed bugs under your bed frame and across every inch and breadth of the bed
Bring out your mattress in the open under the hot, direct sunlight
Interceptor Devices
Have no time to be looking under your mattress and bed for signs of these bugs? Just install a few interceptor devices and watch as they fall directly into them.
Bed bugs are very mobile meaning they move across the length and breadth of their breeding grounds. Thus, installing interceptors under the legs of your bed can give you all the evidence you need to combat these bugs.
Conclusion
Bed bug mattress covers or encasements are a must-have for those in the middle of bug infestations at home. Even if you're yet to spot any bed bugs, wrapping up your mattress in an encasement can save you from these pests in the future.
We've revealed the top picks currently reigning on the market after extensive tests. So feel free to go through and settle for the most suitable option.
Lastly, don't forget to go through our buying guide above to help you make sound decisions.