If you're in a hurry and looking for the best mattress under $1,000, then the Sweetnight Gel Memory Foam Mattress is the best one.
Tired of sleeping on that $5,000 showroom mattress that leaves you with all kinds of body aches in the morning? There are much cheaper but more luxurious options available online right now.
Did you know that you can own a cozy mattress that can supercharge your sex life and keep you sleeping like a baby with a budget of under $1,000?
Well, take a moment to go through our list of the best mattresses for anyone with less than $1,000 to spend. You'll be amazed at the options and features on offer.
How to Choose The Best Mattress Under $1,000 
There's this misconception that any mattress model priced less than a few thousands of dollars may be dud and not worth sleeping on.
While that may have been true 15 years ago when showrooms were the primary places where mattresses could be found, things are very different at the moment.
Thanks to the advent of the internet and the online retail industry boom, you can find a perfect mattress designed to give you amazing comfort and durability for less than $1,000.
Let's take look at the most important things to consider to help you make a smart choice.
Type of Mattress
There are a wide variety of mattress types to choose from including:
Memory Foam
Memory foam is an advanced form of polyurethane foam designed to conform to the physical attributes of anything it comes into contact with.
It provides amazing support by contouring to the unique shape of your body, thereby ensuring proper alignment of the spinal cord as well as the various joints and pressure points.
Memory foam materials are renowned for their world-class durability as well as innovation and comfort.
The only downside is that first-generation memory foam mattresses faced lots of breathability issues but several manufacturers have come up with innovative solutions for that problem in the last couple of years.
Coiled Springs
These types of mattresses are integrated with internal springs just like their name suggests. Innersprings are usually the cheapest models on the market which makes them an attractive option when money is tight.
However, apart from a few premium models designed with independently encased coils, most of them tend to break down with ease.
Fortunately, you should have no problems finding a top-quality innerspring that can last several years with a budget of up to $1,000.
Latex
Latex foam mattresses are the most durable on the market at the moment. Their built-in air channels ensure cool sleeping during the hottest times of the year.
Latex foam materials come in 2 main types: Natural and Synthetic.
Natural Latex models usually offer more bounce and increased durability. However, they can also be more expensive than their synthetic counterparts.
Hybrid Mattresses
A $1,000 budget should be able to afford a wide range of hybrid mattresses. The most popular options on the market now include Memory Foam + Latex Foam Hybrids, Memory Foam + Innerspring Hybrids, and Latex Foam + Innerspring Hybrids.
Whatever your preferred option, a hybrid can be a great way to exploit multiple materials to your advantage in the quest to find the best sleeping experience.
Thickness
When shopping for mattresses, the thickness should always be at the back of your mind because it determines the level of support you can get when sleeping.
Thicker models offer more support which can be extremely important if you or your partner is quite heavy.
The type of sleeping platform you have can also determine the right level of thickness to target in a mattress. For instance, a mattress bought purposely for placement on a box spring may not necessarily be as thick as another for sleeping on the floor.
Number of Layers
How many layers of foam are integrated into that mattress you're thinking of ordering?
Well, this can be a huge determinant of how soft or firm a particular feels when slept on.
Generally, mattresses with more layers tend to be extra plush and softer. The type of foam used in the layers also plays a huge part in how soft or firm it turns out to be.
For instance, memory foam usually softens the overall feel of a mattress more than other types of foam.
Firmness
There's no one size fits all solution when it comes to firmness. Personal preferences such as preferred sleeping positions play a huge role in this.
For instance, side sleepers tend to drift towards softer mattresses to ensure proper sinking of the body for the right head, neck, and back alignment throughout the night.
On the other hand, a dedicated back sleeper will probably prefer a firmer mattress to experience the right alignment for core areas such as the head, spine, and neck.
Certification
$1,000 is still a lot of money to spend on a mattress regardless of your bank balance.
Therefore, you must choose a model that has been tested and certified to be free from allergens such as bacteria, molds, and dust mites as well as potentially harmful chemicals including formaldehyde, lead, and heavy metals.
If you opt for memory foam, make sure your preferred model is CertiPUR-US certified.
Warranty
It's no secret that a brand new mattress can be a significant investment.
Therefore, you must choose a model that comes with a generous warranty in the event of an accident or manufacturer defect.
The good news is that many of those featured in our best mattress under $1,000 reviews below come with sleep trials of around 3-4 months.
This can be a great way to get a feel of that model you're interested in without risking your hard-earned dollars in case you end up disappointed after sleeping on it.
Additional Bells and Whistles
Mattresses at this price point are featuring more bells and whistles so it is important to be on the lookout for them.
From sophisticated covers to custom firmness levels as well as temperature regulation and even shipment modes, there are so many things you cannot afford to miss during the shopping process.
Majority of these mattresses are being compressed and shipped in compact boxes for easy handling on stairs and right into your bed or sleeping platform before removing the box for full expansion to their designated sizes.
The Best Mattresses Under $1,000
The first time I ever slept on a Puffy mattress was during summer holidays at a hotel. Don't remember which though! To be honest, I have never slept as deep as I did that week ever. I fell in love with it, and when I got back home, I ordered one for myself. One of the best purchases I have ever made in my life.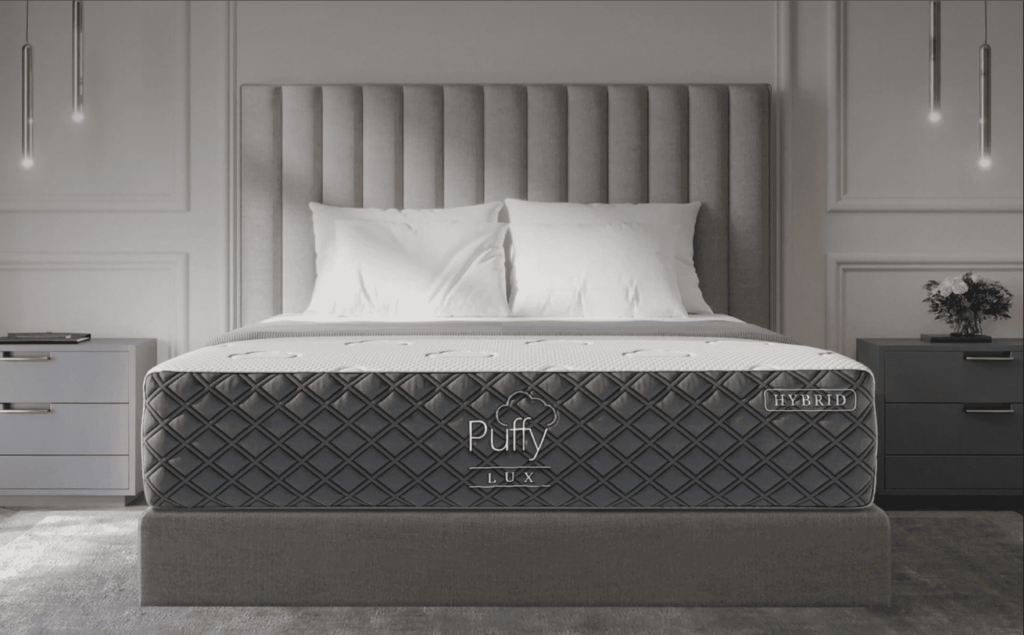 The Puffy brand offer a selection of three top tier mattresses. With the discount you get at their online shop, you have a discount of $750 which puts the Lux Hybrid mattress right under the $1000 mark. Included in the sale you have a sheet set, pillows and protector worth around $600 in total.
There are some key features with this mattress which I need to tell you about. The mattress itself is so soft, my sleep have never been better since I switched to the Puffy Lux hybrid mattress. It is built up with 6 different layers to maximize pressure relief and airflow to just name a few of my favorite features. Select the size you need because it is available in every size! In addition the offer a 101 days sleep trial, which means if you in any case did not fall for the mattress, you can return it before the 101 days mark. It is hard to offer a better service and product than that!
Shop your Puffy mattress from their own website.
Click on this link to come to their website. 
The Sweetnight 12 inch Gel Memory Foam Mattress is designed to deliver that instant luxurious feel synonymous with 5-star hotel beds.
It offers excellent support suitable for all kinds of sleepers especially those who predominantly lie on their tummies. This model comes in a 3-layer combination made of top-level memory foams and supportive foam.
This mattress is medium-firm which ensures that every inch of your body is properly aligned for consumers to be able to reach the highest levels of deep sleep and wake up fully recharged to take on the day.
It is reversible so you can flip it to one side or the other depending on how soft or firm you prefer to sleep at a particular point in time.
The only downside to owning this amazing mattress is the fact that it comes in only 2 sizes i.e. Queen and King.
You have to order the Sweetnight 12 inch Gel Memory Foam Mattress if you want amazing all round memory foam that can give your body the best cradling experience throughout the night.
This hybrid mattress is the way to go if you'd rather enjoy the deep contouring and amazing pressure relief qualities of memory foam without forgoing the world-class support offered by spring coils.
The Signature Sleep Hybrid Coil Mattress features a top layer made from soft quilted memory foam to provide perfect body conformation. This guarantees that all troublesome joints are inline during sleep.
On the other hand, the base layer features innovatively padded spring coils to prevent them from bending, twisting, or creating of pressure points which can lead to bedsores and severe inflammations of any areas of the body.
These functionalities and a host of others make it a great mattress option for anyone with a budget of up to $1,000.
The Signature Sleep Hybrid Coil Mattress can be a great purchase if you want a fantastic hybrid under $1,000 that eliminates pressure points and promotes effective knee and joint pain relief.
The Tuft & Needle Mattress is designed for anyone who has outgrown the capabilities of traditional memory foam mattresses and wants something much better.
It is engineered with innovative and patented foam designed in-house by the Tuft & Needle team.
This foam offers the traditional qualities synonymous with memory foam as well as the spongy, bouncy feel of latex and coiled springs to your bedroom to ensure a dream-like sleeping experience night after night.
The foam also provides just the right amount of bounce as well as resilience and support to put even the most chronic insomniacs to bed.
The top layer feels plush and extremely comfortable which can be lifesaving for anyone who requires soft cushioning as a relief mechanism for painful muscles and sore joints.
The Tuft & Needle Mattress is a no-brainer if you're looking for a great model that provides essential relief for sore joints, aching muscles, and bad backs while giving you the most amazing sleeping experience.
Tons of features leave consumers impressed once this mattress arrives in their homes.
From the smart box packaging to how it fully expands on your bed once unpacked, what is there not to love about this model?
The Tulo Mattress comes in 4 different layers with each one geared towards delivering optimum comfort and a truly great night of sleep.
The top layer comes in a combination of knitted polyester and Tencel blended fabric in a cover that feels cozy on the skin.
It is specially crafted with the right level of firmness to suit the needs of back sleepers and offers more support throughout the 7-8 hours of sleep you get every single night.
Not sure whether this is a great fit for you? Take advantage of Tulo's 120-night guarantee to see first-hand everything this mattress has to offer.
The Tulo Mattress is the obvious choice if you want a model that offers comprehensive body support night after night at an affordable price. 
The Layla Sleep Memory Foam Mattress is another smart option when operating with a budget of up to $1,000.
It is especially recommended for anyone who sleeps hot naturally or lives in a temperate region.
This memory foam mattress is designed with a copper-infused cooling system to eliminate built-up body heat and help you sleep cool regardless of the weather or room temperature.
It is engineered with 3 layers of memory foam featuring a top cover that is manufactured from thermos gel to supercharge its built-in cooling properties.
The triple-layer memory foams provide localized bounce which prevents your partner's movements from waking you up in the middle of the night while you're savoring the perks of Dreamland.
Although the majority of the models available on the market offer only up to 10 years of warranty, LayLa Sleep is happy to provide a lifetime warranty for each purchase as well as a 120-day sleeping trial.
Is that not incredible?
If you're desperate for an exceptionally cool sleeping mattress under $1,000, just order the Layla Sleep Memory Foam Mattress.
This mattress takes thickness and durability to whole new levels in an impressive 16-inch piece that provides more than enough support for the heaviest sleepers.
The LUCID 16 Inch Plush Gel Memory Foam & Latex Mattress delivers amazing coolness thanks to the layer of natural latex material integrated into it.
The top layer features bamboo and charcoal-infused material with world-class anti-bacterial properties. This helps in the natural elimination of all kinds of bacteria and odors while keeping the mattress fresh for healthier breathing.
The plush and ultra-soft feel makes it suitable for a wide range of consumers, especially side sleepers.
It guarantees proper spinal alignment and back support which means you're more likely to wake up pain-free and completely recharged to enjoy your day.
If you've been searching for the best side sleeper mattress under $1,000, buy the LUCID 16 Inch Plush Gel Memory Foam and Latex Mattress right now.
The Casper Sleep Memory Foam is an impressive hybrid of natural latex and memory foam in a mind-blowing combination that makes routine sleeping feel like you're on a dreamy cloud.

It comes in 4 layers of foam that provides the right level of balance, softness, and comfort at the top as well as base layers that deliver perfect support and never-ending durability.
The premium latex foam material offers the right level of cooling and bounce to help you enjoy your sleep. On the other hand, the memory foam embedded into this mattress provides comfort and support to help you sleep like a monarch.
Casper is so confident you'll love this mattress that they're willing to offer a 100-night sleeping trial with completely no risk to you.
If you end up not liking it for any reason, Casper will pick it up and offer you a full refund.
The Casper Sleep Memory Foam is a must-have if you're serious about enjoying the best of what memory foam and premium latex foam materials have to offer.
Conclusion
After much deliberation and contemplation, we've concluded that the Sweetnight Gel Memory Foam Mattress is the best mattress under $1,000 today.
It is perfect for pretty much anyone regardless of preferred sleeping position and delivers a signature sense of luxury you can only dream of.
However, if you're a back sleeper on the hunt for a much firmer mattress as a back sleeper then the tulo Mattress might be the smartest option for you.