Many of us have great childhood memories of jumping around on a trampoline. A very fun activity when you were young. Playing with our kids and grandkids on trampolines can be a great way of reminding ourselves of the good old times. 
A trampoline sleepover can be a fun-packed activity. Many kids say they enjoy themselves whenever they get to join their friends and families for overnight trampoline camping.
But is sleeping on a trampoline good for you? The answer is yes. Lying down on a trampoline can be a great way to unwind after a hard day of work. You could have the time of your life as long as you put some thought into planning the sleepover.
Trampoline Sleeping Checklist: 12 Must-Have Items
Here are the essential items for an epic backyard trampoline sleepover:
Blankets:

They're a must-have if you want to stand a chance of surviving through the breezy nights outdoors. Covering up in a pair of heavy blankets can keep you warm when temperatures dip overnight.

Sleeping Bags: If you're still feeling too cold for comfort even under thick blankets then a sleeping bag may be just what you need. If there's a chance of rainfall then water-proof sleeping bags are your best bet.
Bed Sheets: Lying down on a bare trampoline may not be too comfortable. This is why layering up with bedsheets comes in handy. The right sheets should be cozy to touch and comfortable to lie on.
Trampoline Tents: These tents can be set up over your trampoline mat to protect you from the rain. Trampoline tents can also give you a refuge from the scorching sun during daytime naps. If you're ready to sacrifice sleeping under the stars for rain protection, you should consider one of these tents.
Umbrellas/Rain Coats: Need to visit the bathroom in your main house in the middle of a wet rainy night? An umbrella or raincoat can help you stay dry and protect you from catching a cold.
Curtain Canopy: Curtain canopies can make your trampoline sleepover more pleasant by keeping out all kinds of insects. While savoring the realms of Dreamland, the last thing you want is for an insect to wake you up.
Books:

Whether its bedtime stories or the latest piece of fiction, reading under the stars can be a memorable experience. This is why books are essential when sleeping on a backyard trampoline.

Games:

After jumping around extensively, a point comes when you tire and desire a less exhaustive game to entertain your mind. A few of the less physical games that can be fun to play on a trampoline include playing cards, balloons, and plastic balls.

Snacks:

A trampoline sleepover is incomplete without a few snacks. Popcorn is a huge favorite among people of all ages. But candy, chocolate, cereal bars, and biscuits make good options as well.

Bug Spray:

Bug spray or bug nets keep the bugs at bay so you can enjoy a good night's rest. Sure, your backyard may not be swarming with as many flying creatures as in the wild. But, protection is always better than cure right?

Rechargeable Lamp or Torchlight:

The fact that you're trampoline camping in your backyard doesn't make lighting any less important. Always carry a source of light with you for illumination.

Safety Enclosures:

Trampoline tents can protect you from rolling over to the ground but lying down under them prevents you from the ability to stare into the stars at night. If you'd rather not sacrifice the pleasure of gazing into the skies at night, safety enclosures are a great alternative They can keep you confined to the trampoline mat and eliminate the risk of falling off.

Cushions: Thinking of watching movies during the sleepover? Cushions can offer more comfort as you sit through one movie after another all night long.
Now that we know the necessary preparations for it, we need to build up the level of excitement when you sleep on a trampoline. 
Benefits of Sleeping on a Trampoline
There are several reasons why trampoline sleepovers are so popular. Many people get addicted to it after their first night and that is no coincidence. Shall we take a look at the benefits of camping out on a trampoline?
Fun:

We love trampolines because they're bouncy and fun. No matter how old you may be, jumping around and playing all sorts of games can be enjoyable. The exceptional bounce effect can also make sleep extremely exciting. This is why lying down on a trampoline offers the perfect platform to relax tired muscles after a hard way of work.

Fresh Air:

While summer can be a lot of fun, the weather usually gets too hot. This can cause night sweats which disrupt your ability to sleep. Sure, you can resort to using air conditioners but they can also get stuffy and suffocating. What better way to enjoy the fresh air than to relax on your trampoline on a hot day or night?

Bonding with Loved Ones

: Regular backyard trampoline camping can help strengthen the bond between family members, friends, and couples. Also, the unlimited fun games and proximity to each other can repair strained relationships and forge better partnerships.

Reconnect With Nature:

Does stargazing alone or with your partner at night sound like fun? If yes then you should try trampoline napping. Who knew you could renew your love affair with nature right from your backyard and save yourself a camping trip in the wild?

Escape Route From Daily Life:

Are you suffering

marital problems

or stressed out at work? Sleeping on a trampoline can be an excellent escape route from your problems. The time spent alone should cool down any tensions and give you peace of mind to think through any issues and find the right solutions.
Is Sleeping on a Trampoline Safe?
Is sleeping on a trampoline safe? The answer is yes. Just take into account your sleeping style and the local climate and you can expect an incident-free experience.
Here are a couple of safety concerns you might be wondering about while you ponder whether to spend the night on your trampoline or not.
Rolling Over To The Ground Beneath The Trampoline
One of the reasons why we love trampolines is their generous bounce. But if you roll over in your sleep a lot, spending the night on a trampoline might not sound like a good idea. This is because of the risk of ending up in the ground beneath the trampoline.
The good news is that a trampoline tent can protect you from rolling over to the ground no matter how much you move in your sleep. Even in the absence of a tent, there are safety enclosures that can confine you to the trampoline mat all night long.
The Rain
Depending on your location and the time of the year, a trampoline sleepover could expose you to the rain. Now, waking up in the middle of the night to furious rainfall is no fun. It can ruin your whole outdoor experience forever.
Unfortunately, the fear of getting soaked by the rain is real especially during certain periods of the year. A trampoline tent can come in handy during the rainy season to keep you dry. Some of my best trampoline sleepovers happened while snuggled up in my tent and enjoying the calming sounds of rain falling at night.
The Cold
Sleeping under the stars on your trampoline can leave lasting memories. But, it increases your risk of catching a cold. We all know that temperatures plummet during the night and that is why we try to prepare for it with thick blankets and bedsheets.
Unfortunately, it can get colder than anticipated during certain times of the year. Sure, covering up with heavy blankets should do the trick on most nights. But, a sleeping bag is the best option when the nights get beyond chilly.
Most sleeping bags only sleep one person and you can still shiver during the coldest winter nights. Fortunately, we found a sleeping bag on Amazon that sleeps two adults and keeps you warm even when the temperature falls to 32 degrees.
Who Are Trampoline Sleepovers Suitable For?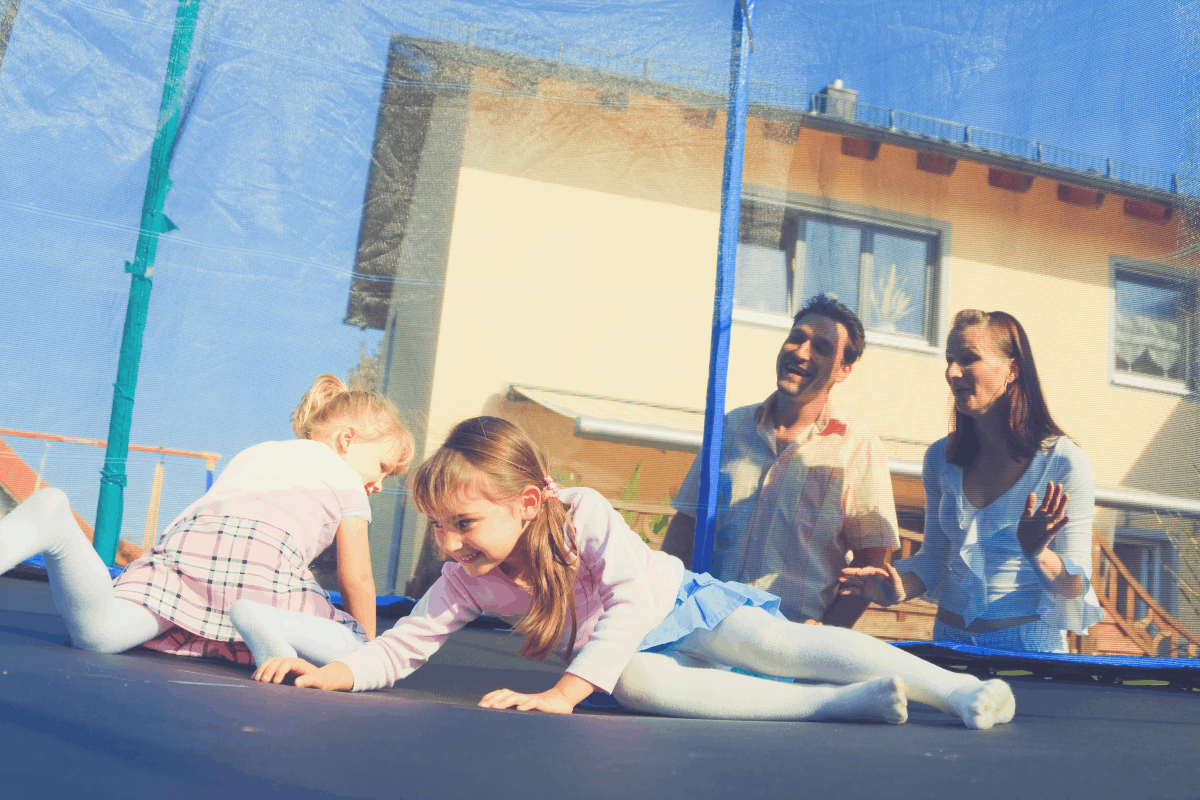 Trampoline sleepovers can be enjoyable for people of all ages. This is especially incumbent in the summer when the nights can get hot and stuffy. Here are a few groups of people who should give trampoline sleeping a try.
Families
Family members can enjoy great bonding with each other during sleepovers on trampolines. With the hustle and bustle of everyday life, it is easy for parents and their kids to disconnect with each other.
Remember, this is a time when the majority of kids have their smartphones and other gadgets just like their parents. This can disrupt face-to-face interactions with one another leading to strained bonds. Camping out on a trampoline overnight allows everyone to unplug from their electronic gadgets and have a good time together as a family.
Teens
The teenage years are the fun years. Teens can organize sleepovers by inviting their buddies over for all sorts of trampoline games and other fun activities. Remember, most people form and solidify life-long friendships at this critical period in their lives.
The various games and activities trampolines offer can also present teens with a good avenue for releasing their high levels of adrenaline.
Couples 
Whether you're the latest couple on the block or have been together for decades, a bit of "us" time can be great for your relationship. The good news is that trampoline sleeping can help you reconnect with each other and reignite the spark in your relationship.
A couple's trampoline sleepover can be romantic. Can you imagine the sort of atmosphere gazing into the stars at night while cuddled up to your partner can be like? 
Trampoline sleeping can also offer couples endless fun possibilities to recharge their brains and relax. This is especially critical for those in relationships that need a breath of fresh air
Are you a granny who played on trampolines during your heydays? What better way to bond with your grandchildren than an overnight trampoline camping?
Jumping around with your grandkids, sharing bedtime stories, and staring into the stars at night could be fun ways to become the favorite granny.
Camping on a Trampoline vs Camping in the Wild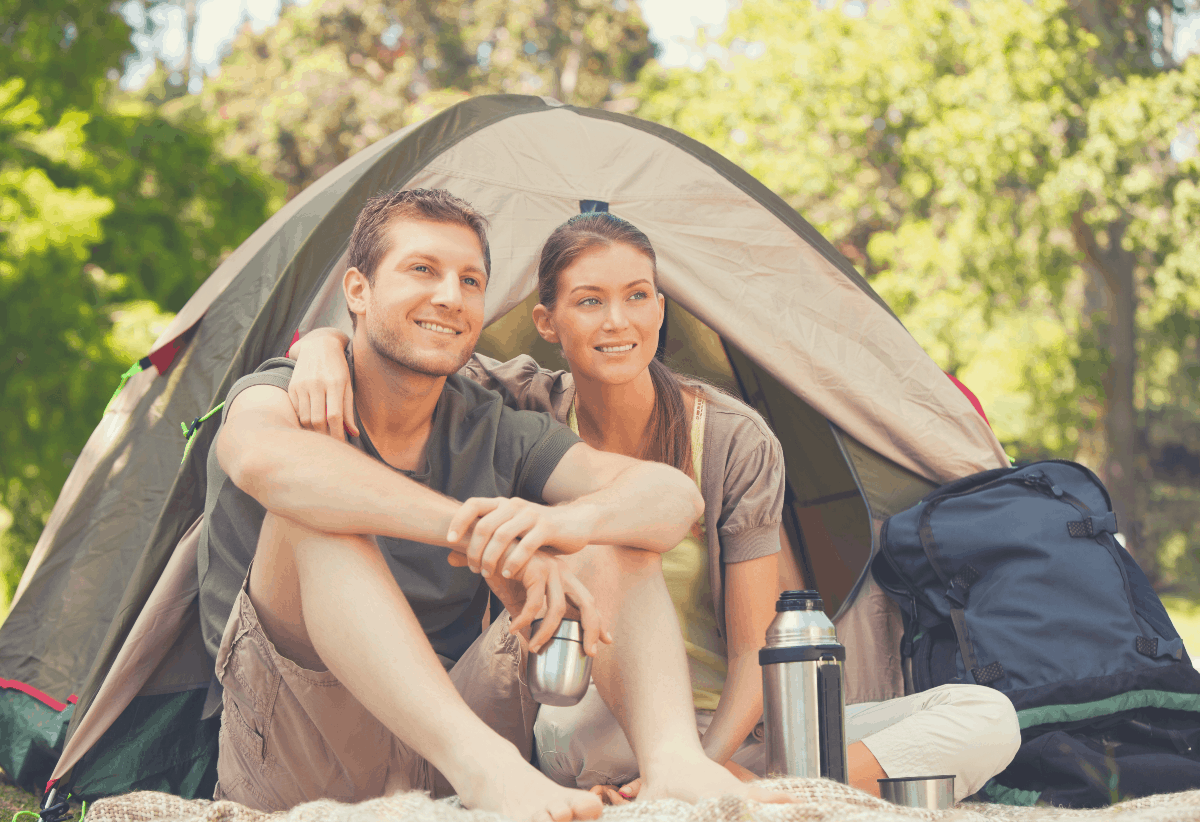 Camping in the wild is one of the best ways to reconnect with nature if you love the outdoors. It can help you get away from the stress of city life and unplug from your televisions, laptops, and Smartphones.
However, camping is not without its challenges. Firstly, depending on where you live, you may have to drive several miles to reach your campsite. In case of an emergency at home, it could take hours for somebody to reach you and even longer to drive back.
Have you tried attending to nature's call during camping? That can also be a nightmare. With no availability of toilets, you may have no option than to get creative each time you want to relieve yourself in the wild.
Camping in the forest can also expose you to all sorts of critters, bugs, and poisonous creatures that can make your life hell.
Fortunately, trampoline camping at your backyard gives you similar benefits to camping in the wild minus its problems.
Firstly, a trampoline sleepover allows you to dash to your house whenever you need to relieve yourself. No need to come up with any gross ideas.
Also, staying in your backyard makes it easy to sort out any emergencies that may pop up. No need to struggle to find cell reception or drive for several hours in case something urgent pops up.
Finally, your backyard should contain nothing more than a few bugs. Thus, you can expect to enjoy the night with your loved ones in peace.
Here is an affordable and safe 15-foot trampoline we found on Amazon. It is built to last with Reinforced T-Socket and features safety enclosures to keep you confined during overnight sleeping.
Trampoline Beds Indoors
Do you love the feeling of lying down on a trampoline so much that you wish you could sleep on one every night? Well, your wish can become a reality. There are indoor trampoline beds that allow you to enjoy the same level of bounce in your bedroom.
These trampoline beds come in several sizes and designs to fit your tastes and your pocket.
Conclusion
Congratulations on reading up to this point. You now have everything you need to set up a great trampoline sleepover. As long as you follow the safety procedures outlined above, you should have a fun-packed night. Just don't forget the trampoline sleeping checklist we revealed earlier.
Additionally, try to come up with activities that cut across every age group so none of the participants feel left out during the sleepover. Is there anything you'd like us to include in this trampoline sleeping guide? Please feel free to comment below. 
We'd be happy to respond as soon as possible. Otherwise, you may be interested in reading how to sleep in a bathtub!